One thing I desperately need this summer is a bathing suit cover-up. I usually just wear a t-shirt and a pair of Norts over my bathing suit, but I want a cute little cover-up that I can just easily throw on over my bathing suit because sometimes I just like wearing dresses better. I picked out two cover-ups that I like, and I'm hoping to get one of them because I just need one that badly. Help me pick out which cover-up to get!
1.
Feelin' Fancy from Sail to Sable.
I recently found out about Sail to Sable from
Caroline's blog
, and I think all of the tunics are absolutely adorable! I was searching through the website when I found this "Feelin' Fancy" tunic. I love that it's casual enough to throw over a bathing suit at the beach yet fancy enough to wear with bright jewelry to a nice restaurant. The only two things that I don't like are the price and the color. $240 is
a lot
of money for this tunic, and I don't know if I'd want to spend all of money on this right now. I don't think I'd enjoy the dress being black because it absorbs sunlight, so I'd be sweating!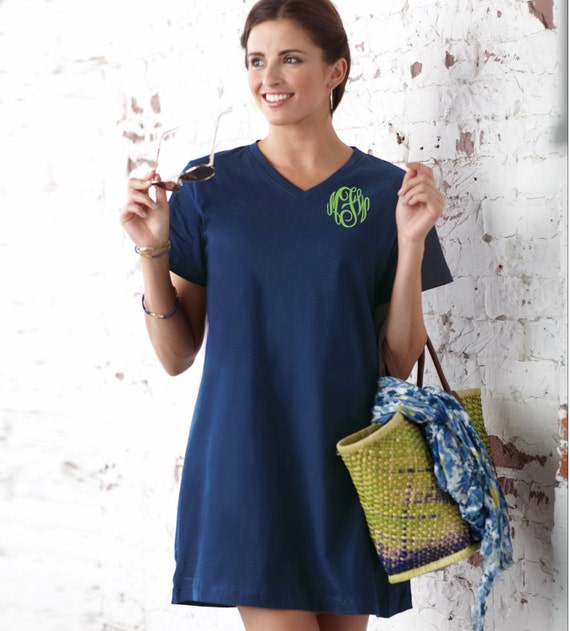 2.
Monogram Cover-up from StitchingDesigns.
A while back, I came across one of
Frannie's posts
about what she wanted to get for her trip to Florida, and this cover-up was on it! I instantly fell in love. The dress is cute yet practical, and I love how it has a monogram on the side. It only costs $24, which is a bargain! The dress comes in four colors: black, white, navy, and gray. I would either get the black or the navy with a hot pink script circle monogram. It's from the Etsy shop Stitching Designs!