Something that I've always been obsessed with is office supplies. Whenever I go into a store, I'm always so tempted to go to the office supplies section first. Then when I see something that I like and want, I always get way too tempted to buy it... and then end up buying it. But I really don't need to buy any because I have so much from constantly buying them! And the fact that there are so many pretty office supplies makes it even worse.
With that being said, I thought I would share with you all the office supplies that I just can't seem to stop myself from buying!
1.
Legal pads.
I don't know what it is about legal pads that make me obsessed with them, but I just am. I like how you can just easily rip off a page that you need to save or throw out. My boyfriend knows how much I love them, so part of my Valentine's Day present from him consisted of six legal pads... I guess you could say he's the best! And the fact that these legal pads come in blue, pink, and purple? Yes please! I might just have to search through
Amazon
for these...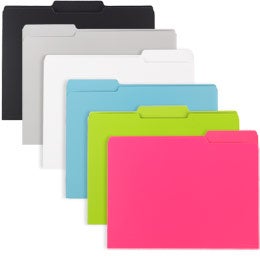 2. File folders. I'm super organized, so I don't like having things lying around. Therefore, I believe everything has a place it belongs in. When I need and/or want to save certain papers, I like to put them in file folders and then label the file folders so I can easily find the paper(s) I need. I have the plain-colored file folders, but now that I see those pink, green, and blue ones, I might just have to search through Amazon for those too...
3. Colored pens. I love using colored pens! They're great when I'm correcting homework in class so I know which problems I got wrong and which one is the right answer. They're also really helpful when taking notes because then I can color code my notes, therefore making them more organized. The vibrant colors make studying a little more easier and fun instead of having to just stare at a monotonous color like black or blue!
4. Highlighters. I love the fluorescent colors of highlighters! They're fun and add excitement to my notes and papers. Also, they help make important things stand out in my notes that I need to remember while studying!
What office supplies do you like to use?