Summer involves frequent trips to the beach and the pool. So why not arrive to those places with an adorable tote bag? Tote bags are essential for summer, as they hold all of the supplies that are needed. Check out these cute bags below that I love for summer!
1.
Multi Mini Chin Chin Shoreline Tote.
We all love Lilly Pulitzer. Her patterns and prints are so summery and perfect for warm weather! This tote bag adds color and is the perfect size to hold everything needed. The only thing I don't like about it is the price... in my opinion, $78 is a little much for a tote bag. But it's worth it if it's this cute!
2. Seashore Tote in Lilli Bell. I CANNOT get over how adorable this is... seriously! I just discovered the Seashore Tote from Vera Bradley, and I'm already in love. It looks to be a woven or straw material, which is great. I love how Vera Bradley used that woven or straw-like material and then took five different prints and made shapes having to do with the sea out of them. You can get fish in Tutti Frutti, a turtle in Sun Valley, a whale in Lilli Bell, an anchor in Marina Paisley, or a crab in Plum Crazy. How creative! I read the reviews, and they said that this tote is huge and not the size of a purse. Even though it's $65, I believe it's totally worth it!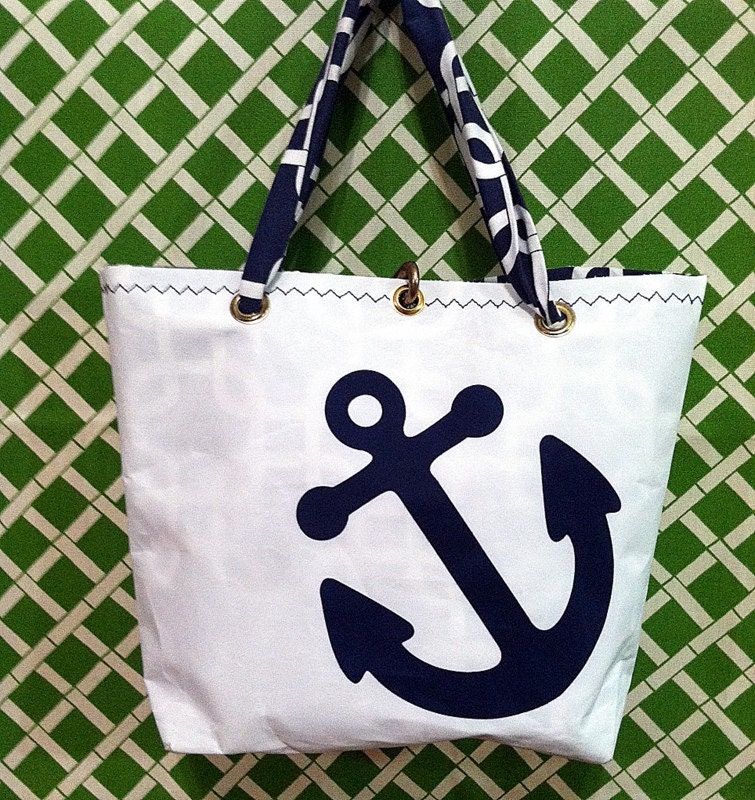 3.
Medium Sail Cloth Tote.
I believe that having a tote bag in the summer with any type of nautical print on it is absolutely necessary. I recently came across this tote from the Etsy shop NauticalNotions, and I think it's perfect! The only thing I don't like about the tote is the color. I don't like having white bags, especially white tote bags, in case the sand, spilled drinks, or dripping sunscreen stain it. Sail cloth is a very durable fabric, though!
Which summer tote bag do you like?