Once Easter came, I was excited to wear two types of clothing pieces: white capris and seersucker. I absolutely love anything seersucker because of how classy and preppy it is. I'm always dreaming to add more items to my seersucker collection, so I thought I would show you guys everything seersucker that I want to wear!
1.
Seersucker shorts.
I love wearing seersucker shorts. The
pink Vineyard Vines shorts
shown above are adorable! That picture isn't exactly helpful, but on the website, the shorts are the perfect length because they aren't too long but not too short. It's even better that they're on sale for $55.99!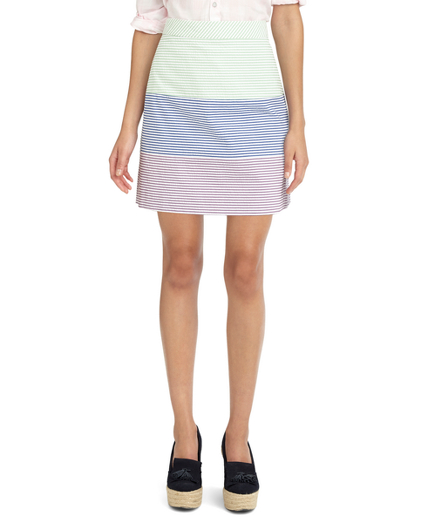 2.
Seersucker shirt.
I have never owned a seersucker shirt before, but I'm dying to own one. The first time I saw this gorgeous
Brooks Brothers Three-Stripe Seersucker Skirt
was on
Rachel's blog
. I love how she styled the skirt. I also love how the skirt consists of three different colors of seersucker, which makes it unique from other seersucker skirts. The price, $98.50, is a little too high for me right now, so I'm going to wait to see if it goes on sale!
3.
Seersucker dress.
I fell head-over-heels in love with this dress when I saw it. It is the
Carolyn Seersucker Dress in Breaker Blue from Vineyard Vines
. I love that it's strapless because I don't really like to wear dresses that have straps. What makes the dress even better is the fact that it's scalloped at the end! The dress is really simple, which I like, and the scalloped end really adds to the dress. This dress is $165, which is
way
too much money for me right now. I'm hoping that it goes on sale because I would love to have it for summer!
What seersucker item(s) do you like?